"The optimal sludge reduction process"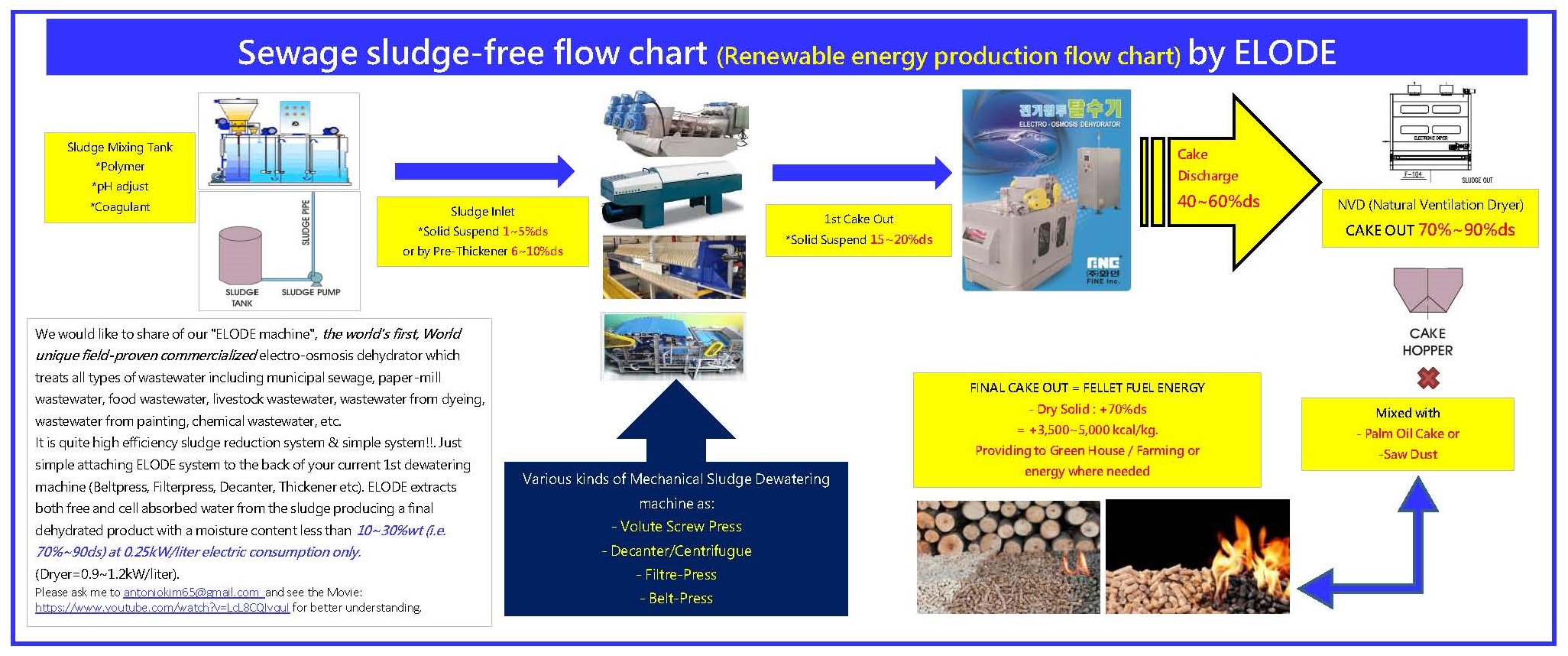 "The optimal sludge reduction process"
1. Energy consumption 200kWh per hour,
2. Dry Solid 70% ds Guarantee,
3. Yearly Maintenance fee $ 10,000 only,
4. Equipment Lifespan: 20years,
5. ROI: Maximum 24months,
6. If you are a manufacturer or supply engineer of a Mechanical Dewatering machine(Decanter,Beltpress, Filterpress, Centrifuge, Thickener, Screwpress etc), you can combine/apply this system immediately to get more high valued profit!!! If you are interested, please visit [www.bluewin.kr]
******* ******* *******
We are a leading maker of Sludge dewatering system in Korea for 30years over and developed, commercialized ELODE(Electro Osmosis Dehydrator system), Now we are looking for a leading business partner who's interested in "Wastewater Sludge Dewatering, Sludge Reduction or Sludge renewable energy"
ELODE system is
Competitor! in the World for Sludge Dewatering~
30%wt(70%ds) Guarantee for most of WWTP sludge characteristics.

water removed! (Lowest Energy Consumption)!

Recovery of Investment (Faster ROI)
Lowest Operating Expenditure!

Lowest Capital Expenditure!
It is very Simple Flow sheet combined with all kinds of Mechanical machine such as Beltpress, Decanter, Centrifuge, Thickener, Screw-press, and others + ELODE + NVD(Natural Ventilation Dryer) ▶ Out-Cake +70%ds / Total Energy consumption less 0.35kWh/we.liter / Throughput:1~1.2ton @18~20%ds Input / Daily 24hours full automation system without operator or worker.
Hope you to share this Unique technology and make clean Earth environment together. Thank you so much for your kind attention and Please let me know your e-mail address to be sent PPT file.
Thanks and with regards,
Antonio KIM