Zaid Rashdan, Principal environmental consultant at Al Masader Aldualiyah for environment and quality systems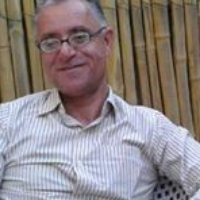 Dr Al-Rashdan is holding PhD. in Environmental Sciences and Analysis from C.v.O Oldenburg University in Germany/ Advance treatment of wastewater and animal manure using natural materilas ( T hesis title:Investigation of Natural Zeolitic Tuffs on their Ability for Sewage Cleaning Purposes) , MSc. in Applied Geology and Environmental Sciences (Thesis title: Treatment of Domestic Wastewater Effluent from Stabilisation Ponds using Jordanian Zeolitic Tuffs) and BSc. in Geology and Environmental Sciences from Yarmouk University in Jordan.
Dr Al-Rashdan is a Principal Environmental Consultant by a well-organized Environmental Consultancy Company in Saudi Arabia since 2005. Responsibilities include, but not limited to, Business Development, Documents Review, Proposal Preparation, Site Reconnaissance, Preparation of Social Impact Matrixes, Consultations with Representatives from Governmental Agencies and Local Societies, Baseline Survey, Environmental and Social Impact Assessment Studies, Environmental Advisor, Environmental review and audit and other related fields
Environmental services provided to both governmental and private sectors, Governmental sector include The General Authority for Meteorology and Environmental Protection, Ministry of Municipality and Rural Affairs, Ministry of Environment, Water and Agriculture. Private sector includes: Oil and Gas, Mining Projects, Infrastructure, Mixed Use Development, Sewage Treatment Plant, Poultry and Animal Farms and other Industrial Sectors.
Dr Al-Rashdan is participated in Business Development, Client Managements, Development of Proposals for Different Projects (Saudi Aramco, Bechtel, Maa'den, etc). He has Very Good Experiences in Site Visits and Reconnaissance, Environmental Sampling and Analysis, Environmental Inspection and Compliance Auditing, Baseline Data and Matrixes Preparation, Social and Environmental Consultations, Environmental and Social Impacts Studies Preparation
Some of the Projects he was worked on were Required Compliance with International Lender Agencies or Regulations (e.g. International Finance Corporation - IFC, World Bank Regulations, Californian Title 22 Requirements, etc..), and Local Regulations (General Environmental Regulations and Rules for Implementation of Saudi Arabia, Wastewater discharge and reuse regulations, etc). Additionally, some of the Projects Required to be in Compliance with the Host Company Regulations and Standards (eg. Saudi Aramco Standards: Saudi Aramco Engineering Standards, Saudi Aramco Engineering Procedure, Saudi Aramco General Instructions, etc). Furthermore, Dr Al-Rashdan has Very Good Experiences in the Field of Environmental Sampling and Analysis using Atomic Absorption Spectrophotometer, Flame Photometer, UV-Visible Spectrophotometer, Total Kjeldahl Analyzer and other Analytical Instruments and Apparatus
In addition, Dr Al Rashdan has very good experiences in managing and executing governmental projects in Saudi Arabia.