Salahaldeen AMRO, salahdaraghmah@hotmail.com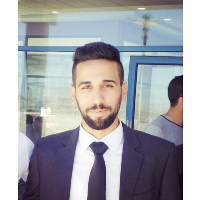 Ing. Salah is a Senior Water Engineer, holds a BSc degree in Civil Engineering and MSc degree in Water and Environmental Engineering from An-Najah National University. In addition to that, he holds a PGDip Degree in Sustainable Urban Development from Erasmus University Rotterdam. Currently, he is pursuing his PhD degree in Urban Water Management at Ruhr-Universität Bochum.
Ing. Salah is specialized in the field of Water and Sanitation Engineering, with more than 7 years of experience. Recently, he was occupying the position of Technical Advisor for ACTED - Agency for Technical Cooperation and Development, and before that, he occupied the position of WASH Supervisor for ACTED as well. Ing. Salah was a member of Universal Group for Engineering and Consulting – UG. He has been involved as Wastewater Process Engineer in the "Design Review and Construction of Hebron Regional WWTP" project funded by AFD, WB and EU, under the supervision of Universal Group for Engineering and Consulting - UG and Artelia, Passion & Solutions. In addition to that, Ing. Salah involved also as a Wastewater Engineer in the Preparation of the Sanitation Master Plan of Jerusalem Water Undertaking (JWU)`s service area, under the supervision of UG and Dorsch International Consultants GmbH. Further to that, he had been involved in Water Loss Reduction Project at Nablus City under the supervision of CONSULAQUA Hamburg. Throughout this period, Ing. Salah got familiar with the
Frameworks, Legislation, and Development Strategies of World Bank-WB, Agence Française de
Développent-AFD, European Union-EU, German Technical Cooperation-GIZ and German Development
Bank-KFW.
Moreover, Ing. Salah worked for around 3 years as an Academic Researcher at Water and Environmental Studies Institute (WESI) – An Najah National University. He participated in preparing several research projects as water and wastewater treatment systems in addition to environmental impact assessment, and renewable energy studies. Additionally, Ing. Salah joined to Palestinian-Dutch Academic Cooperation Program on Water (PADUCO) as a Water Researcher; he contributed in the project of Innovative water solutions for Palestine. He participated in conducting several studies such as; "Impact of untreated wastewater on natural water body integrated risk assessment", and "Water management and governance". Ing. Salah is also experienced in the fields of Water Resources Management, in addition to Hydrologic & Hydraulic Modeling, Water Quality Modeling and Environmental Assessment (EIA&LCA).