Quazi Ahmad Faruque, Deputy Executive Director at Ashrai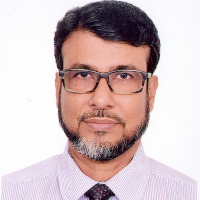 Mr. Faruque ​has 30 years of ​working ​experience in ​the field of ​Renewable ​Energy, ​Microfinance ​and Rural ​Development ​with Private ​Sector, ​International ​Organization ​and UNDP/UNOPS. ​He is the Head ​of Clean Cook ​Solutions and ​Green ​Initiative of ​Rahimafrooz ​Renewable ​Energy and one ​of the ​Directors of ​Rural Services ​Foundation.​
Mr. Faruque has a

multidisciplinary​ ​background with ​Master in ​Development ​Study (MDS), ​Master of ​Business ​Administration (​MBA Executive ​Program) and B.​Sc. in ​Mechanical ​Engineering

. He has ​conducted a ​number of ​studies for ADB,​ IDCOL, CDF, ​Rahimafrooz and ​Islamic Relief ​Worldwide.​