Michael Amewuda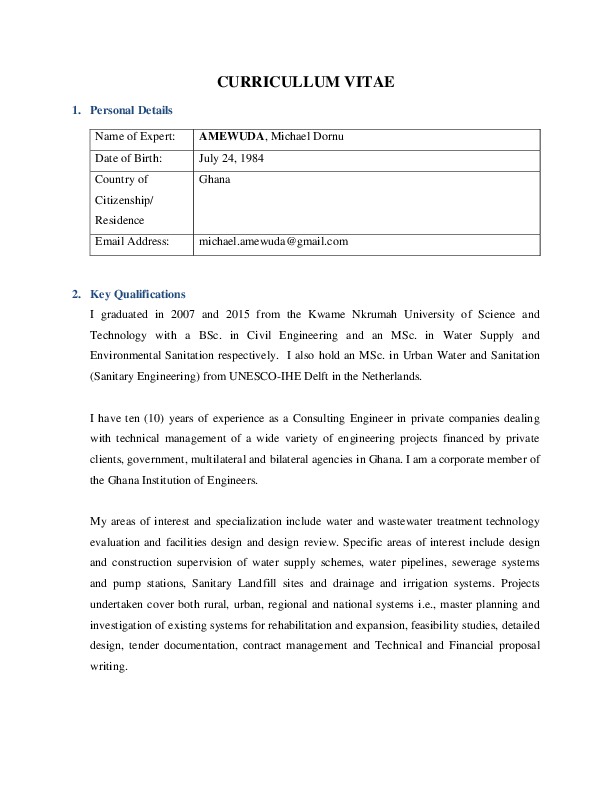 I graduated in 2007 and 2015 from the Kwame Nkrumah University of Science and Technology with a BSc. in Civil Engineering and an MSc. in Water Supply and Environmental Sanitation respectively. I also hold an MSc. in Urban Water and Sanitation (Sanitary Engineering) from UNESCO-IHE Delft in the Netherlands.
I have ten (10) years of experience as a Consulting Engineer in private companies dealing with technical management of a wide variety of engineering projects financed by private clients, government, multilateral and bilateral agencies in Ghana. I am a corporate member of the Ghana Institution of Engineers.
My areas of interest and specialization include water and wastewater treatment technology evaluation and facilities design and design review. Specific areas of interest include design and construction supervision of water supply schemes, water pipelines, sewerage systems and pump stations, Sanitary Landfill sites and drainage and irrigation systems. Projects undertaken cover both rural, urban, regional and national systems i.e., master planning and investigation of existing systems for rehabilitation and expansion, feasibility studies, detailed design, tender documentation, contract management and Technical and Financial proposal writing.