Alexandre Politano, GIS Consultant – Coordinator and Environmental Data Analyst Expert at Petrobras - PUC/RIO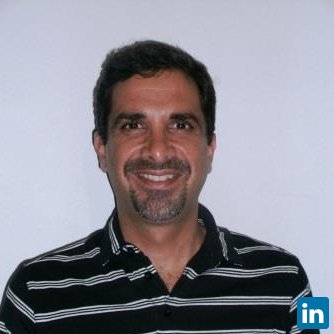 I'm MSc. in Computational Systems Engineer, COPPE/Federal University of Rio de Janeiro/Brazil, 2007-2009 and I'm graduated in Biology, UNISANTA/University of Santa Cecilia – Santos/Brazil, 1997-1999. I'm GIS Evangelist. I have more than 25 years of experience in Geographic Information System – GIS. I worked at GEMPI (at the time ESRI's representative in Brazil) for seven years. At GEMPI I developed my technical knowledge in several phases of GIS and I got experience since desktop system until WEBGIS application working on projects for market solutions in various business areas.
I'm currently working for the Catholic University of Rio de Janeiro (PUC-RJ) where I develop geotechnical research in the environmental area at a large oil company in Brazil: Petrobras. I've been working at Petrobras Research Center (CENPES) since 2002 and there I'm GIS leader and reference at Petrobras/CENPES. I work on several research projects focused on environmental management. Among these projects I highlight: the project of implementing an IDE - Infra Spatial Data Structure for the environmental data; Risk model to coral-sun bioinvasion for the management of fleet displacement that serves the offshore oil & gas activities; 3D representation for use in Virutal Realizade (RV) space of environmental characterization data, besides others that in appropriate opportunity I can present in detail. During this time I made part of important environmental projects. I've developed and implemented an IDE - Infra spatial data structure for environmental data. I'm part of the team of projects about oil & gas market using ESRI technology as a business tool for environmental management. And I'm reference in GIS at Petrobras for helping the management area in giving data base information and giving GIS support to strategic issues of the company. I'm also responsible for documenting the GIS process and transfer this knowledge through courses and scientific publications.
I have knowledge and strong experience in GIS - database and I really enjoy what I do. I'm self-motivated. I'm a professional who evaluates all the possibilities before making the best decision. I'm hardworking, well-organized, problem solving and I meet deadlines. I consider myself out-of-the-box thinking to generate innovative ideas, conceptualizing problems differently and understanding my position in relation to any particular situation in a way I'd never thought of before. I have ability to develop cooperative relationships with all levels of management & staff. In leadership positions I'm easiness teamwork leader, I'm able to transforming their workforce in value results to the people and the company. I'm also a good team player. I have ability to manage people and I'm willing to learn from others.
I see that this position seems like an excellent match for my skills. I really wish to contribute with all my 25 years of experience in GIS . I am very ready for a new challenge in a new country.