World's First Brine Treatment Plant Based on Modern Water's AMBC Process
Modern Water plc. announced that the British Deputy High Commissioner of Gujarat, Geoff Wain, opened the world's first brine treatment plant based on Modern Water's all membrane brine concentration process ("AMBC").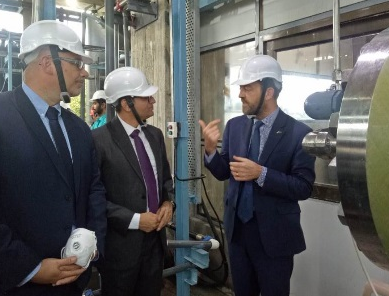 The plant treats technically challenging waste water for Indian chemicals giant Bodal Chemicals, a major international chemicals company and one of the world's leading manufacturer of dyes and dye intermediates. This is a crucial part of an energy-efficient treatment process for a highly saline organic-laden effluent stream from dyes manufacturing operations that achieves zero liquid discharge ("ZLD"), meaning that all waste water is purified and recycled at the end of the treatment cycle.
The project was undertaken by Modern Water in conjunction with its partner in India, Advent Envirocare Technology Pvt Ltd ("Advent"), one of India's leading companies focused on the technically challenging industrial wastewater market. Modern Water's AMBC process is based on its proprietary forward osmosis and related processes. AMBC significantly reduces the cost of ZLD plants.
In addition to licensing and designing the AMBC, Modern Water also provided specialist equipment, supervised commissioning of the plant and trained Bodal's operations staff. The plant is now being operated by Bodal's staff under the supervision of Advent.
Simon Humphrey, Modern Water's CEO, said: "We are proud that senior management of Bodal, and the British Deputy High Commissioner have opened what is a world-first. Our partnership with Advent in India is going from strength to strength and we are working hard to replicate the same model of partnership with credible local players in other countries in order to fully commercialise our water treatment technology."
Commenting on the project, Soham Mehta, Advent's CEO said: "Innovative energy saving water treatment technology is needed more and more in India as our environmental regulations become stricter and stricter, often requiring ZLD. Our partnership with Modern Water allows us to offer large international industrial companies, such as Bodal, a way of treating or recycling their water in a cost-effective way to a standard that is world leading."
Source: Modern Water