WesTech Microvi MNE Process Overview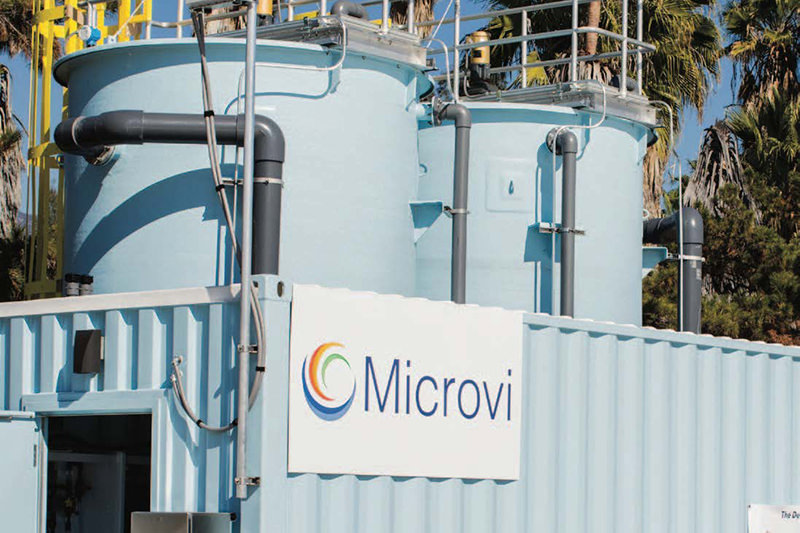 Microvi Biotech, Inc. and Southern Water Services Ltd. announced the implementation of a project in England that will demonstrate Microvi's innovative technology for phosphorus (P) removal and recovery.
The nine-month project is a collaboration between Southern Water, Microvi, WesTech Engineering, Inc., and the University of Portsmouth.
The goal of the demonstration is to reduce total phosphorus to levels below 0.1 milligrams per litre for wastewater treatment plants.
Current solutions for achieving these challenging phosphorus consents rely on dosing high concentrations of costly metal salts, locking up phosphorus and generating large masses of low value solids with a high disposal cost. Historically biological phosphorus removal has not met these tighter standards.
Microvi MNE™ wastewater solutions, based on Microvi's proprietary MicroNiche Engineering™ (MNE) platform, overcome challenges with the conventional paradigm. Microvi MNE reduces waste and chemical usage for cost-effective phosphorus capture and recovery for a sustainable circular economy.
"We are innovating in new ways with the aim of finding technological solutions for phosphorus removal which deliver best value for our customers in the long term, whilst having the least impact on our environment. The project we're working on with Microvi presents an exciting opportunity to demonstrate future circular economy approaches," said Elin Williamson, Research & Development Manager at Southern Water. "You can learn about innovation at Southern Water on our website."
Microvi's solutions have demonstrated cost effective removal of a wide range of pollutants such as ammonia, BOD/COD and priority substances in wastewater and major pollutants such as nitrate in drinking water.
"I am pleased to work with Southern Water to demonstrate the power and versatility of Microvi's technology for the wastewater industry," said Dr. Fatemeh Shirazi, CEO and CTO of Microvi.
Microvi MNE intensifies wastewater treatment. It treats more water in less time alleviating the need to increase the footprint of a plant to meet the demands of a growing population and more stringent environmental standards. It also reduces chemical use and biosolids production, leading to reduced total costs. In combination with WesTech's process equipment, Microvi MNE provides a complete wastewater solution.
This project kicks off a collaborative partnership allowing Southern Water to utilise the Microvi MNE solution for needs related to United Kingdom's next AMP (Asset Management Plan) cycle. Along with phosphorus removal, future projects will identify and demonstrate different process applications that meet both environmental regulations and financial performance requirements.
Source: Microvi