Upgrades Planned For Howell's Wastewater Treatment Plant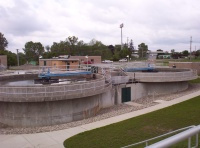 A critical project to upgrade the City of Howell's wastewater treatment plant that has been years in the making is to be moving forward.

The Howell City Council recently approved a resolution that was developed and approved by the Capital Improvement & Rate Advisory Board, known as CIRAB. Howell DPS Director Erv Suida tells WHMI the board has been meeting for essentially nine years now discussing capital improvement projects needed at the wastewater treatment plant.
Read all about this project on WHMI station's webpage.