Norlex Systems Industrial Wastewater Treatment Plant Presentation (Video)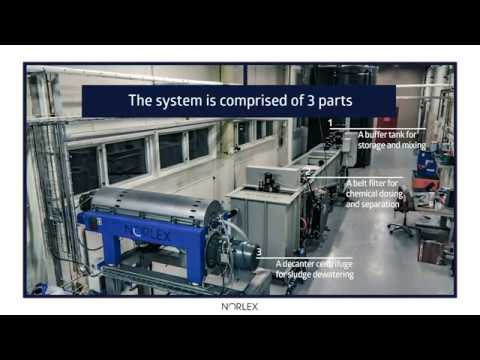 This video showcases a wastewater treatment plant recently sold to an industrial laundry in Sweden. The treatment plant, a Continuous Separation System (CSS), was designed, manufactured, installed and commisioned by Norlex Systems.
Wastewater from the laundry is continually treated by chemical dosing, which separates the water and solids (sludge). The outlet water is either reused for washing, or led to the sewer, as it complies with national environmental limit values. The sludge is transported to a decanter centrifuge, in which it is dewatered, significantly reducing the disposal costs for the customer.
Norlex Systems is the systems division in Norlex, which incorporates a wide range of environmental services, focusing on waste water treatment. The company designs, manufactures and supplies complete wastewater treatment systems, with both conventional technologies, as well as new and innovative technologies to meet future water treatment requirements.
Norlex Systems collaborates with a number of recognized Danish and international suppliers, ensuring the delivery of customized systems adapted to the needs of each and every customer.
Source: Norlex on YouTube