New Kansas Wastewater Treatment Plant Upgrade 'Just Getting Underway'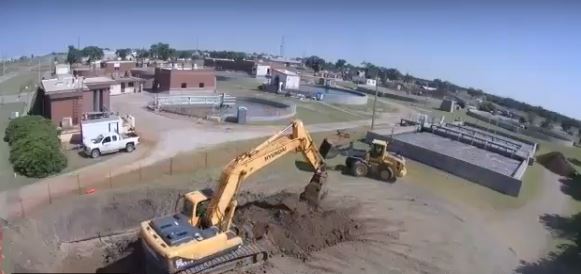 The plant must be overhauled to meet future nitrogen and phosphorus limits as required by the Kansas Department of Health and Environment and Environmental Protection Agency.
The Design/Build team for the $28.4 million project is Burns & McDonnell and CAS Constructors.
Brandon Coleman, HDR Engineering, is assistant project manager for the reconstruction of the Hays wastewater treatment facility. He gave a status update to city commissioners during their meeting.
The most visible change at the site, 1498 E. U.S. Highway 40 Bypass, is construction activity. A new south entrance and access road have been built, a water reuse filling station relocated and there has been demolition of trickling filter and DAF equipment.
The public can watch the work via a live web camera installed by city workers on the northwest corner of the site looking to the southeast. The YouTube channel is available on the city's website. Currently, excavation is underway for the influent pump station.