'Grandfather' of natural treatment systems to be honored with environmental award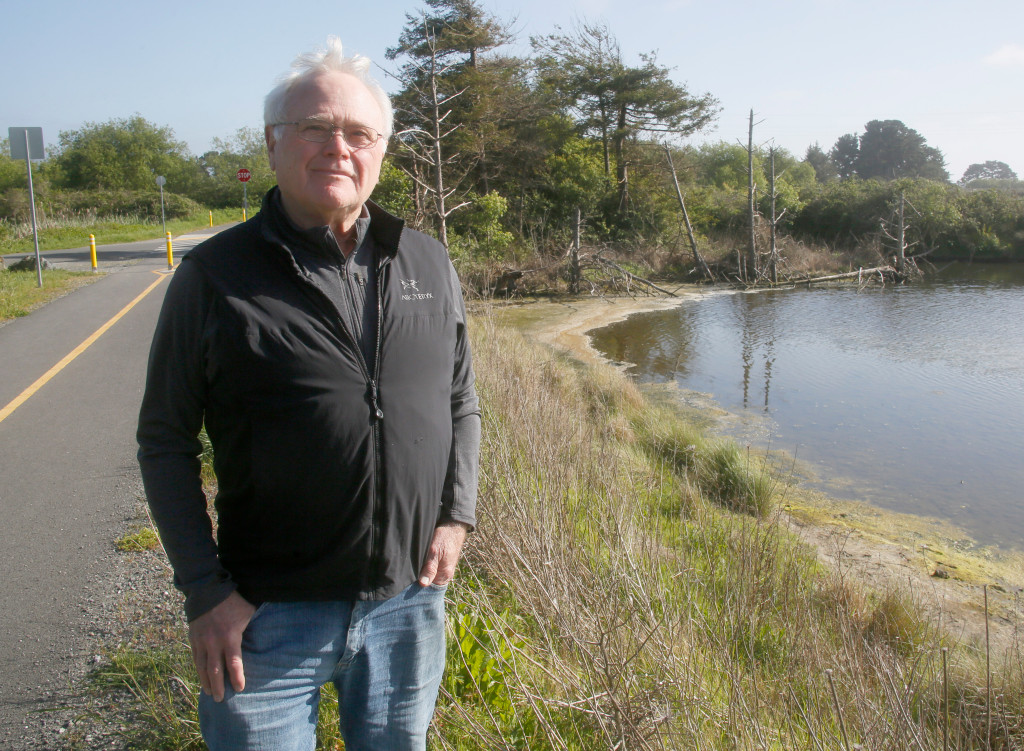 Bob Gearheart stands at the Arcata Marsh. Gearheart is being honored with an environmental award on May 7 for his longtime work on natural treatment systems such as the Arcata Marsh.
The city of Arcata produces more than two million gallons of sewage per day — there is nothing out of the ordinary about that statistic; it's in line with the amount of sewage generated by cities of similar size.
Bob Gearheart stands at the Arcata Marsh. (Shaun Walker — The Times-Standard)
The difference between Arcata and those other similarly sized cities is the manner in which the sewage is treated. The procedure the city currently uses to process its wastewater didn't exist 50 years ago. It was the engineering skill of two men that led to an innovative wastewater treatment system that not only handles the city's sewage but also provides a wildlife sanctuary that is one of the city's most popular attractions.
The development of the Arcata Marsh as an integral part of wastewater treatment in Arcata was the primary focus of two professors at Humboldt State University, George Allen and Robert Gearheart, who developed a process that uses what was a former salt marsh as a means to treat sewage that is then discharged into Humboldt Bay.
On May 7, Gearheart, who you can still find working at the marsh on a daily basis, will be honored by the Environmental Law Institute at its annual awards dinner in Washington, D.C.
Gearheart will receive the Institute's award for scientific research. It was two former students of his at HSU, Eileen Cashman and Brad Finney, currently professors in the school's environmental science and management program, who nominated him for the award.
"I would just say his 40-plus year career in which he has been dedicated to understanding wetlands systems in a very applied way," Cashman said when describing why she and Finney nominated Gearheart. "He's just inspiring in his commitment to sustainability and the scientific approach to understanding water systems. He brings a blend of skills — biologist, engineer, teacher — and hundreds of students have been impacted and inspired by what he's done."
The development of the marsh as a wastewater treatment plant was a result of the Clean Water Act signed into law in 1972, which made available millions of dollars of federal funds for research into clean water projects and, according to Gearheart, it put him on the road to where he is now.
"In a way, I'm a child of the Clean Water Act," said Gearheart who earned bachelor's degrees in mathematics and biology, and then got his master's and Ph.D. at Oklahoma University. "It opened up a lot of opportunities for engineers to get actively involved in water quality. I found a niche that didn't exist earlier with my background in biology and it was work that was done in Europe in the 1960s and 1970s where they found wastewater that went into a natural marsh proved to be treated effectively and I thought, 'What if I could build a system similar to the natural marsh?'"
Gearheart's work has been replicated across the globe and has been used for the development of wastewater systems in Asia, Africa and North America. It was the ground-breaking nature of his work that gained him so many admirers.
SOURCE TO TIMES STANDARD ORIGINAL ARTICLE ABOUT GEARHEARTS BIOLOGICAL MARSH TREATMENT