GMWSS approves design, construction services contract on South Sewer Project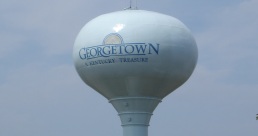 The expansion of Wastewater Treatment Plant No. 1 is not the only project on Georgetown Municipal Water and Sewer Services' radar.
At its special meeting last week, the GMWSS board approved a $244,600 contract with Hazen on the South Sewer Extension for design and services during construction. This would be Contract No. 2 on the project and needs approval by the board for the project to stay on schedule, including submitting plans to the state Division of Water.
GMWSS General Manager Chase Azevedo said Georgetown and owners of mobile home parks impacted by the extension are continuing negotiations, but added that if for some reason the mobile home park backs out of the negotiations, the design could still be useful for work in the area.
Read this news in full on News-Graphic